You're running out of the house, only to realize - you forgot your jewelry (again). Insert a stressed-out facepalm and feeling partially "naked" for the rest of your accessory-less day.
Sound familiar?
We're here to help. We've curated two beautiful ear stacks to suit your personality, whether you're looking for something dainty and delicate or more fierce and bold.
You're sure to fall in love with one of these famous ear stacks. More importantly, you'll love having one less thing to worry about during your early morning shenanigans.
Stack 1 - Delicate But Impactful
For the women seeking a look that's delicate enough for an upscale date night yet impactful enough to take center stage at the office party, this ear stack is for you.
Star of the Show: Long Link Earrings with Baguette Diamonds
Your graceful ear stack starts with these glamorous 14k gold earrings, featuring long-link craftsmanship dotted with a row of 48 eye-catching diamonds. But there's more than meets the eye with these majestic earrings. A glance from the side showcases a notable cluster of enchanting baguette diamonds, taking this long-link earring look from "pretty" to "monumental."
Supporting Actress: Channel Set Baguette Diamond Huggies
While the Long Link Earrings with Baguette Diamonds can run the show alone, the look takes an intricate and alluring twist with the addition of the Channel Set Baguette Diamond Huggies - otherwise known as the must-have supporting actress to create the ultimate delicate yet impactful ear stack.
The Channel Set Baguette Diamond Huggies hug the earlobe closely with a sheer look of channel-set baguette diamonds framed in white, yellow, or rose gold.
Must-Have Character: Bezel Set Baguette Studs
Finish your sensational ear stack featuring baguette diamond earrings with the Bezel Set Baguette Studs. These studs come with a thick picture-frame border that accentuates the baguette-cut diamond beautifully in the center. It's the perfect, modest accent to pair with the over-the-top and spellbinding 14k gold and diamond earrings counterparts.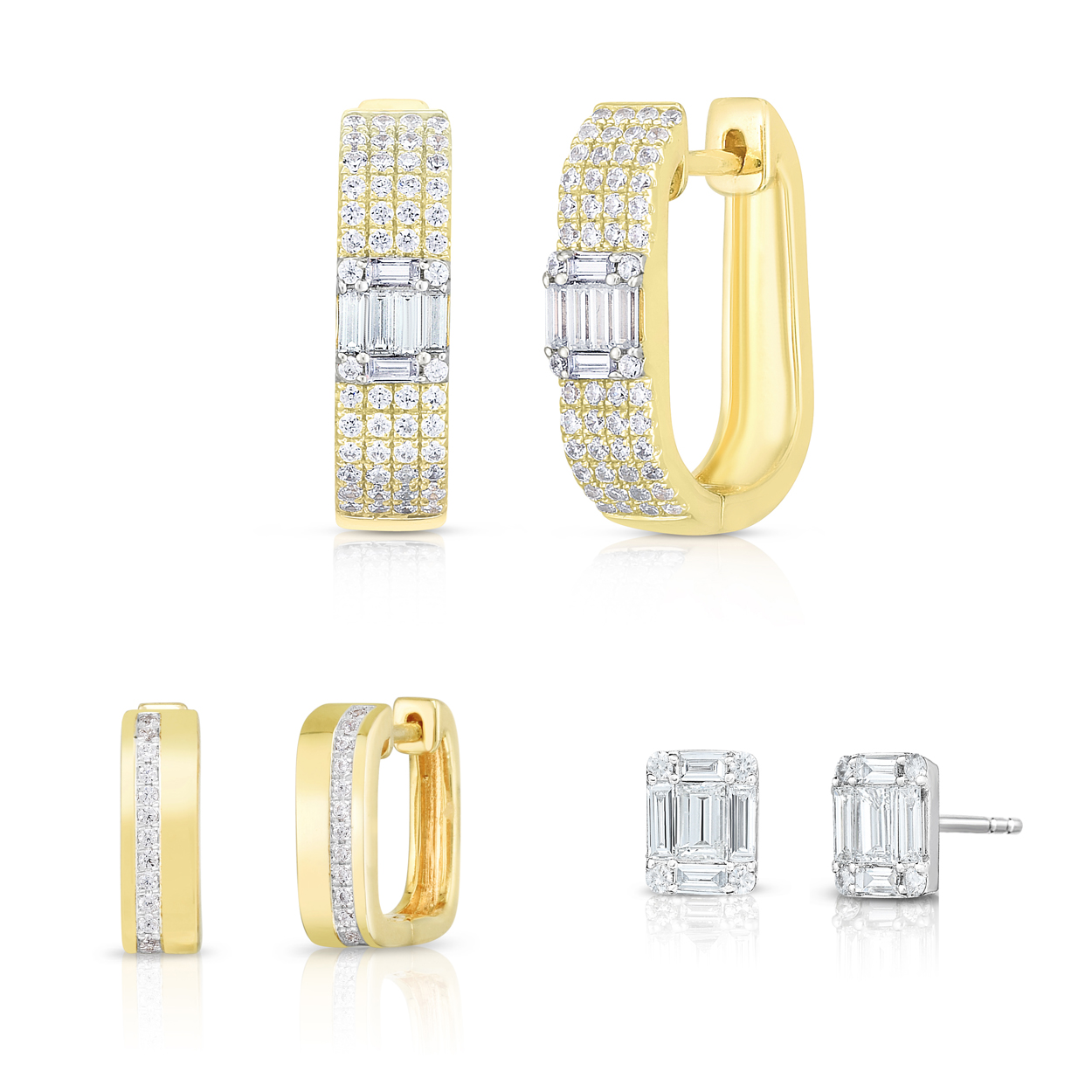 Stack 2 - Bold and Bossy
Craving a look that's a little bit louder and more assertive? This impressive ear stack is not designed for the faint of heart. It's crafted specifically for the woman that doesn't mind all eyes on her - wherever she's flaunting.
Focal Point: Emerald Illusion Diamond Pave Hoops
Nothing quite says "powerful" like a pair of hoops, and that's why these head-turning Emerald Illusion Diamond Pave Hoops take center stage in your flashy ear stack. These gorgeous, look-at-me hoops are oozing with 116 luxe pave-set diamonds, all leading to the main attraction: a captivating emerald-shaped baguette right in the middle.
Essentially, these hoops are the perfect illustration of fine jewelry.
Perfect Complement: Square Diamond Line Huggies
The Square Diamond Line Huggies are unlike any other fine jewelry designer huggies out there. The exterior showcases an architecturally squared silhouette, softened beautifully by a stream of 28 diamonds right down the middle. With a thick, squared-off border available in white, yellow, or rose gold, you can easily toss a bit of color into your jewelry stack.
Show Stopper: Emerald Illusion Diamond Studs
Tie your bold and bossy ear stack together with these show-stopping emerald illusion studs. Although small in stature, they make a big fuss at any event with 18 sparkling emerald illusion diamonds that twinkle and shine against the light. Women who treasure emerald diamonds will love the look of these irresistible studs.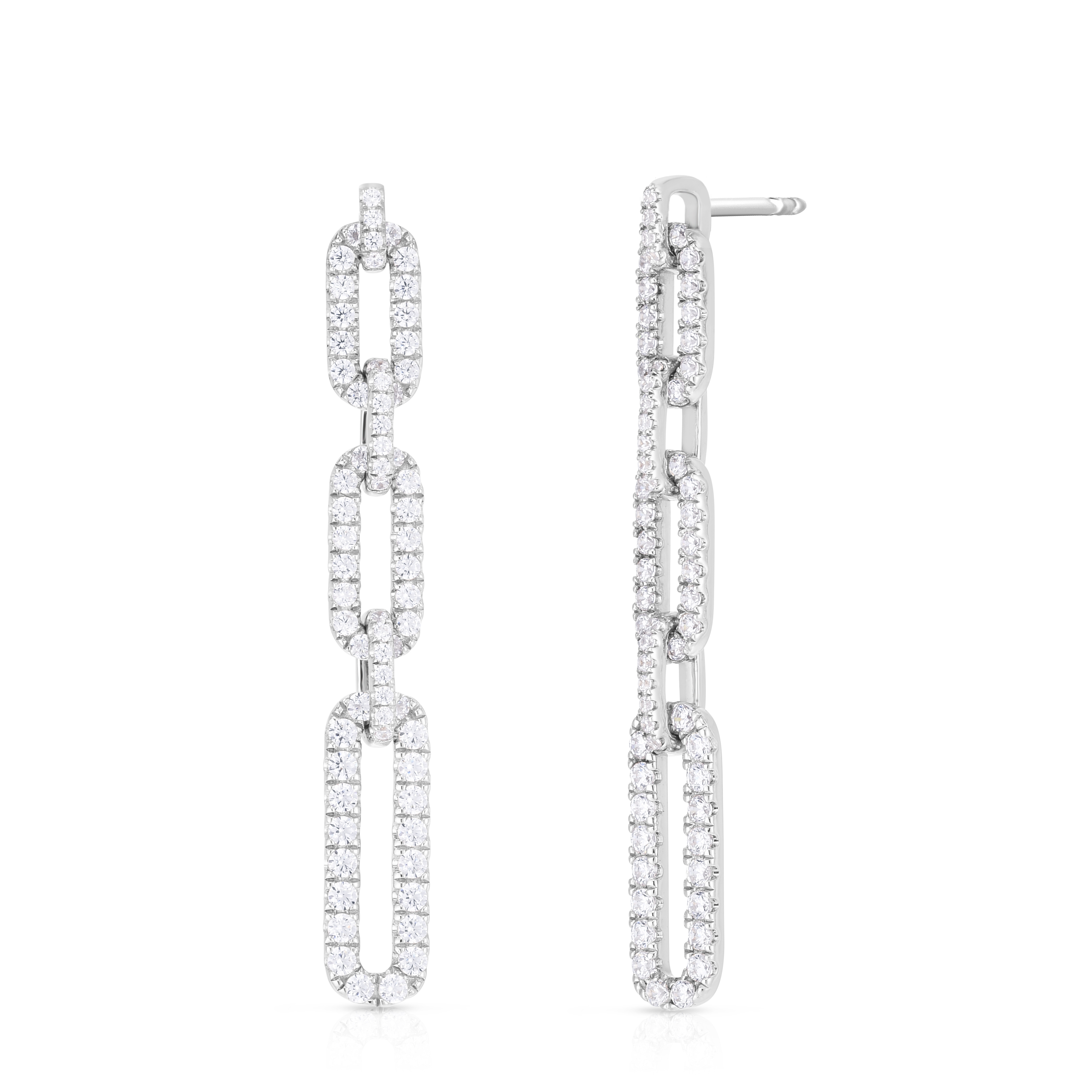 Option 3 - For the Ladies with Only One Piercing
Make an Impact: Diamond Long Link Earrings
How do you make a statement with a single piercing? With our Diamond Long Link Earrings, of course! Coated in diamonds and dripping in attitude, this statement isn't shy about its shine- remind you of anyone? While boujee in the best way, it's still subtle enough to be a daily favorite.
Final Words
Stacking 14k diamond earrings doesn't have to be tricky, complicated, or time-consuming. With one of these stacks, you can create an iconic look that becomes the instant trend talking point of any gathering. Which stunning ear stack will find its way onto your lobes?