Luxury. Affluence. Status. These are all words we would use to describe the intrigue of gold. When it comes to making a statement with every step, nothing quite suits the bill like a golden statement piece. But which one's right for you?
Herringbone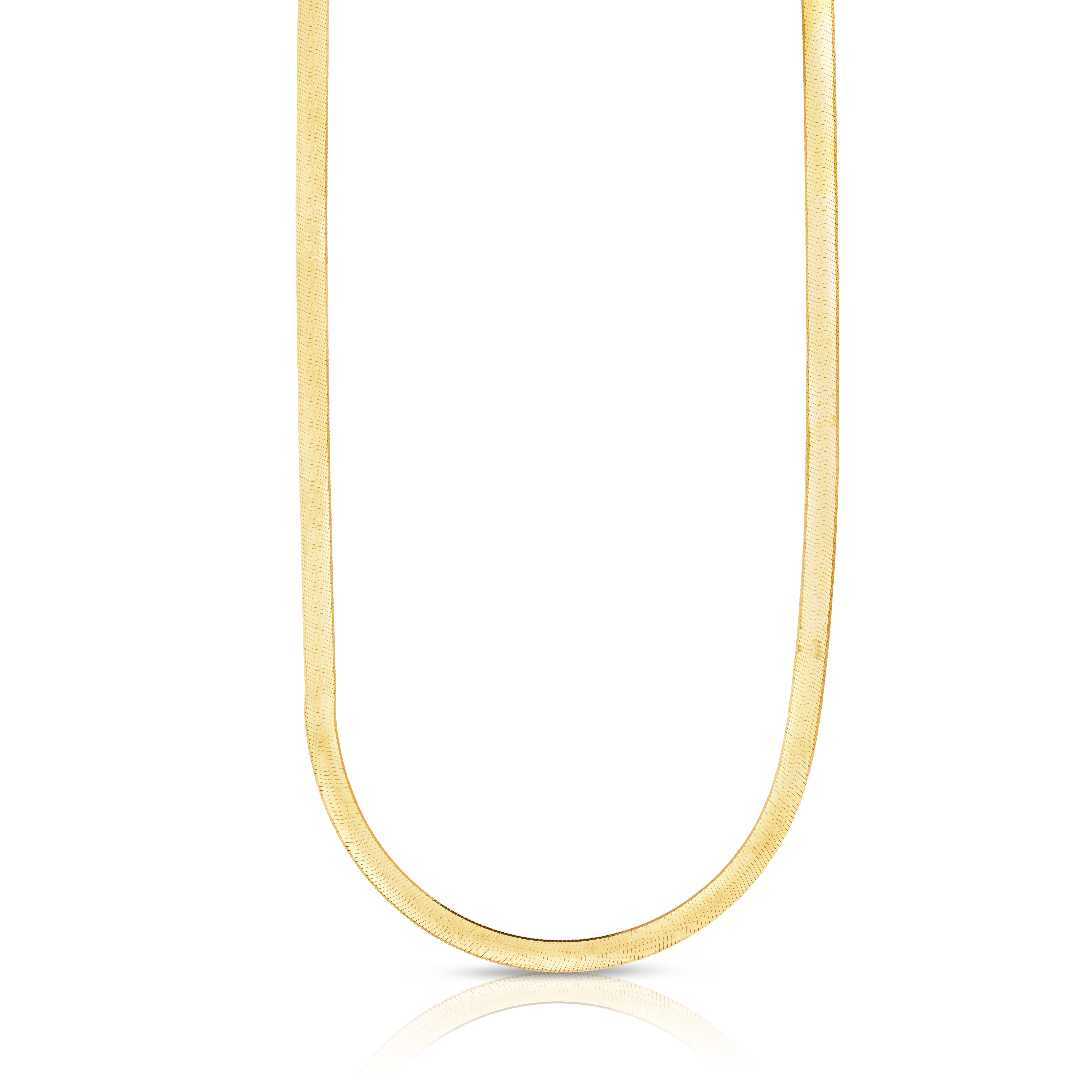 The herringbone is the definition of elegance and class. The flat, interlocking chain necklace provides an effortlessly smooth and chic appearance designed to bring out your inner goddess.
The lovely, streamlined look creates a silky smooth statement that rests against your skin effortlessly. At a glance, it appears as if you'd been draped in pure liquid gold.
This versatile piece isn't just for luxe experiences, though. Due to its coy nature, the herringbone is the ideal base for a thrilling look with bulkier, chunkier, and more vibrant jewels.
Puffed Mariner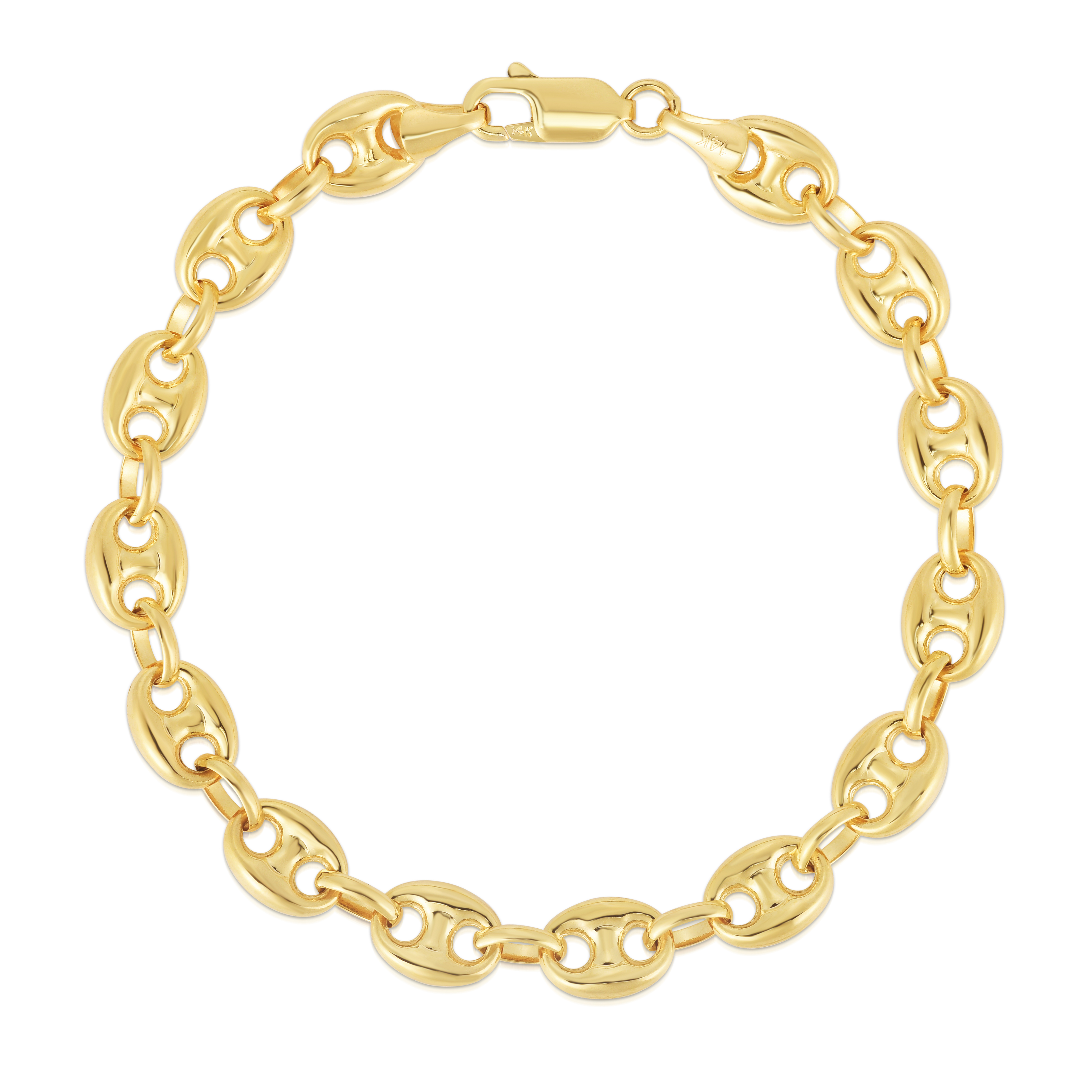 Unlike the herringbone, the puffed mariner isn't afraid to be loud. The bold and intriguing interlocking oval pieces are meant to be daring. Needless to say, the puffed mariner is reserved for women that don't hesitate to be audacious and out-of-the-box.
Due to its intrepid appearance, the puffed mariner can easily be worn alone. It's the perfect pairing for the tempting miss that steps out in a leather jacket yet remains unequivocally classy. Being a grander piece of golden jewelry, it holds its own against oversized and colorful stacked jewelry, too.
Curb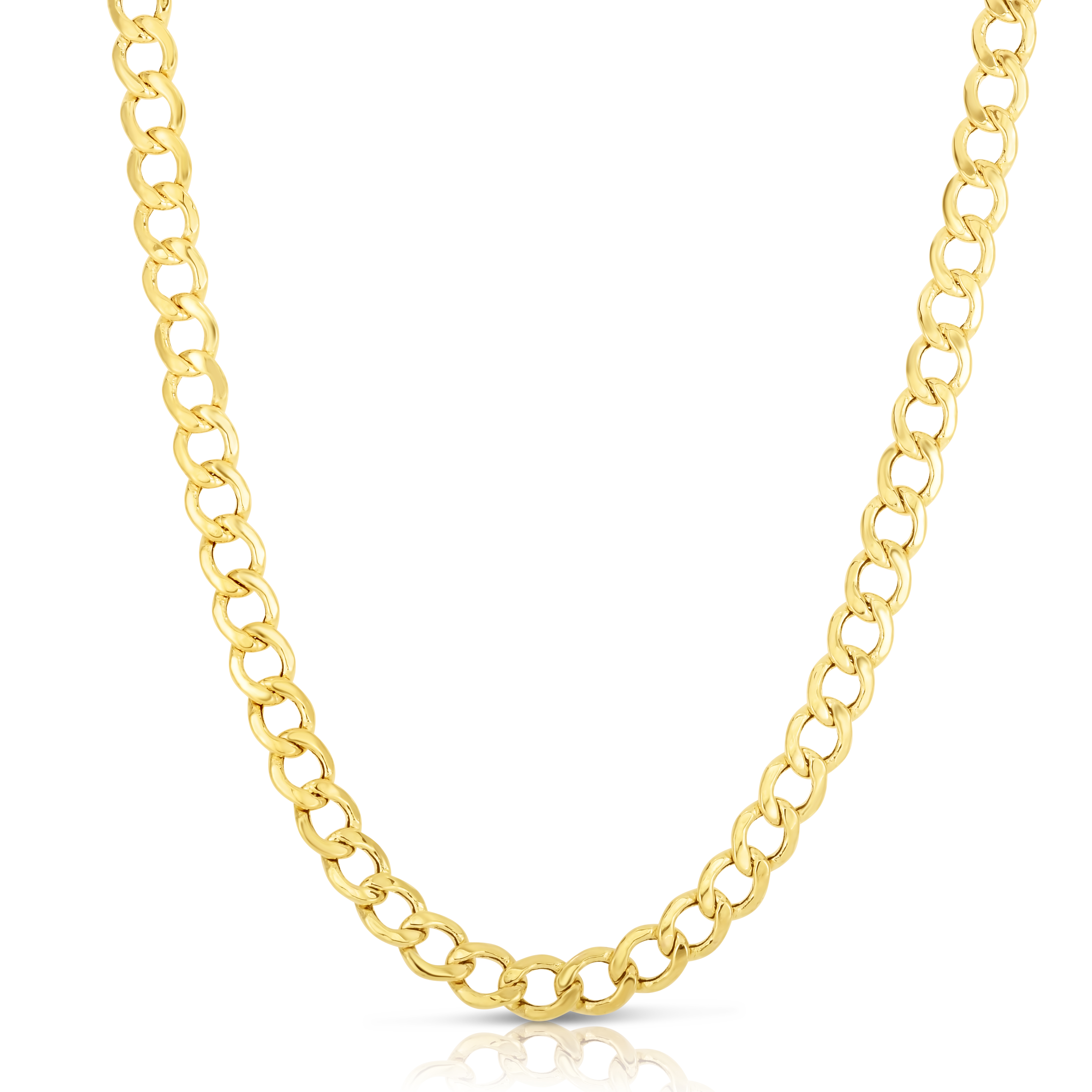 When it comes to timeless pieces that can be worn with just about anything, the curb chain comes to mind. The curb chain may be simple and classic, but it is truly nothing short of resplendent.
The curb chain is trendy due to its versatility and deluxe, uniform interlocking pieces. The awe-inspiring chain is the fashion staple that goes from the office to the cocktail party without skipping a beat.
Being a necklace that contains sizeable chain links, it's easy to wear alone as a statement piece. It's also the focal point for layered chains, being the robust piece that stands out from the crowd.
Figaro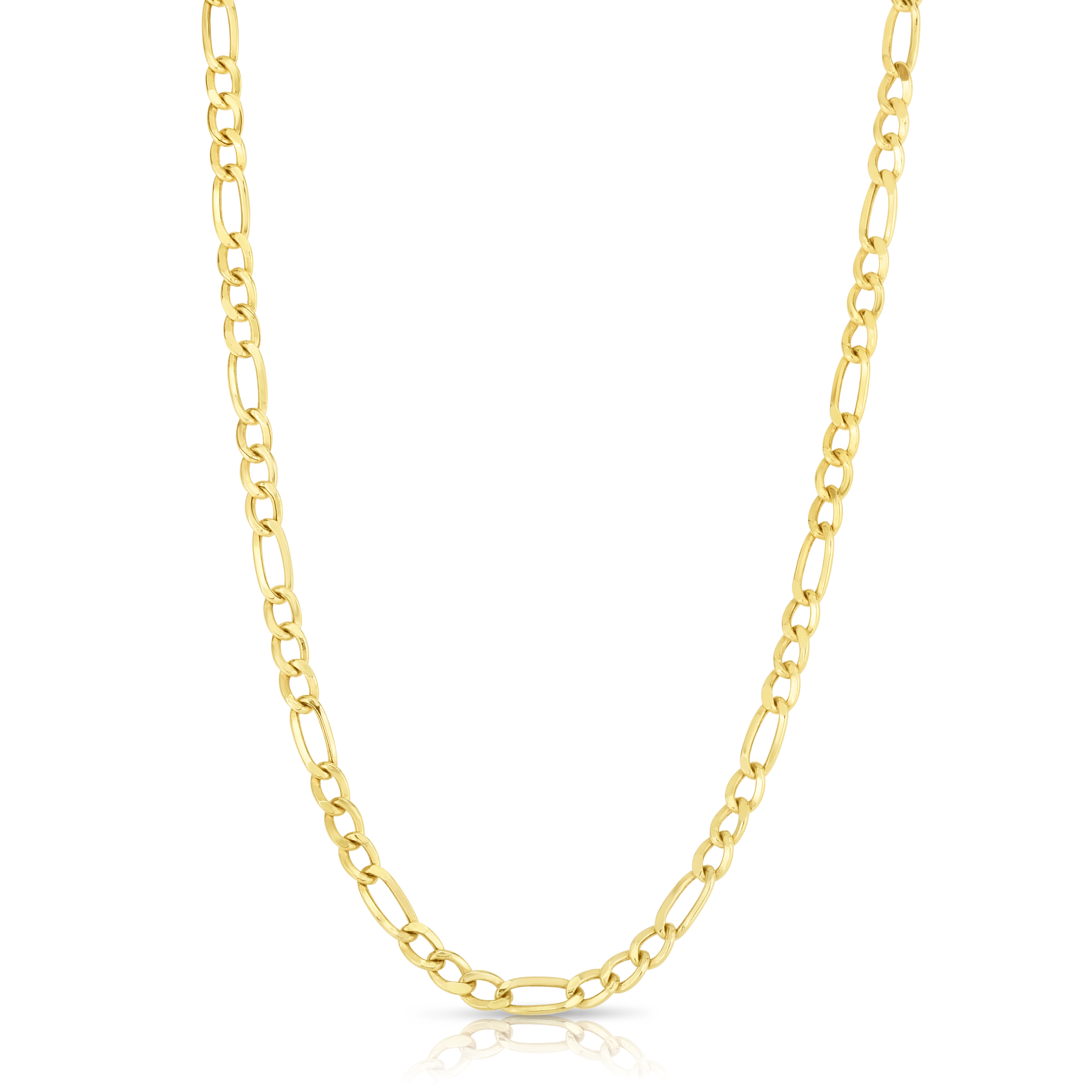 Feeling a little coquettish and want a daintier number? The Figaro may be the necklace for you. Although the Figaro isn't as bold as the other chains, there's something to say for simplicity.
The Figaro chain boasts a minimalist design that's anything but boring. Three delightfully small-scale links are followed by a larger, more distinct oval that adds an intricate pattern to the chain. The design is interesting, unique, and undeniably attractive.
Although the Figaro is a noticeably auspicious necklace, it's quite practical and surprisingly casual. Being on the demure side, it effortlessly complements your favorite pair of jeans and t-shirt and is the quintessential piece for layering.
Long Link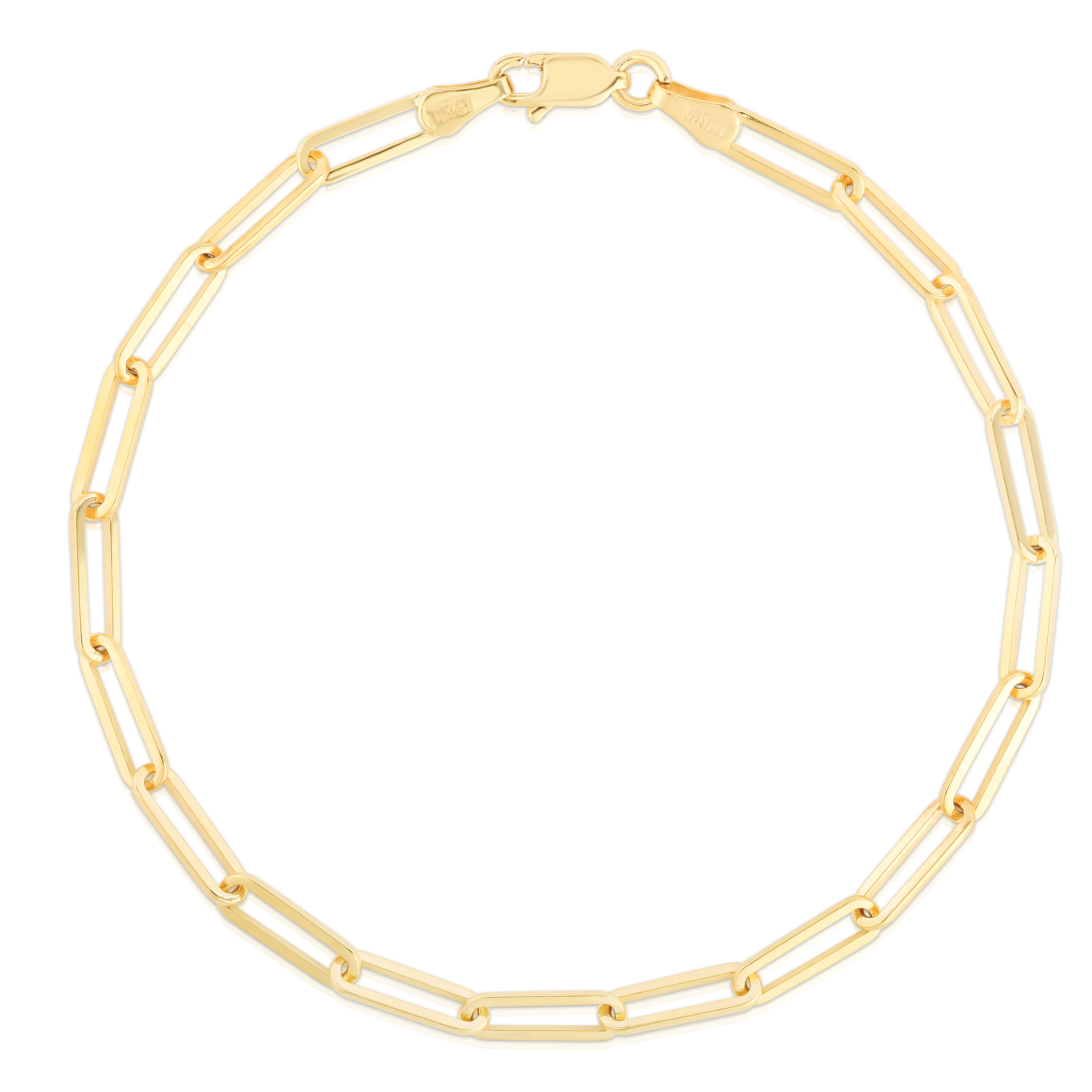 If you're looking for a chain necklace that contravenes all other chains, the long link is it. This sleek and lustrous chain is all about stepping out of the box and creating a look that's voguish and distinctive.
This golden necklace is styled with a pattern that is the perfect combination of voluptuous and minimalist styling. The slender, elongated chains connect to create an infinitely timeless, graceful, and tasteful look.
You will love the long link on its own with your favorite little black dress. You can also mix, match, and accessorize with opposing chain styles, creating a whimsical yet cultivated finish that's loaded with shimmering dimensions.
Your Golden Accessory Awaits You…
What are you waiting for? Golden chains are the ideal accessory that takes your look to new heights. Whether you want to be draped in liquid gold with a herringbone or rely on the classics with a curb, you're guaranteed a sumptuous finish every time…