We've all seen it: those gorgeous, perfectly-placed necklaces bedazzling the necks of our favorite influencers. Our jaws drop, our hearts flutter, and we can't help but instantly "double-tap."
But don't let the influencers have all the fun. If you're ready to start mixing statement pieces to create a layered look that holds up against the best, consider stacking lush baguette-diamond coated pieces.
Baguette diamonds are infinitely rarer, more exotic, and reserved for elegant fashionistas who aren't afraid to pay a little extra for the highest pinnacle of quality. They are luminously rectangular in shape and step-cut rather than brilliant-cut like most other diamonds, which means a pristine diamond quality is necessary to eliminate flaws.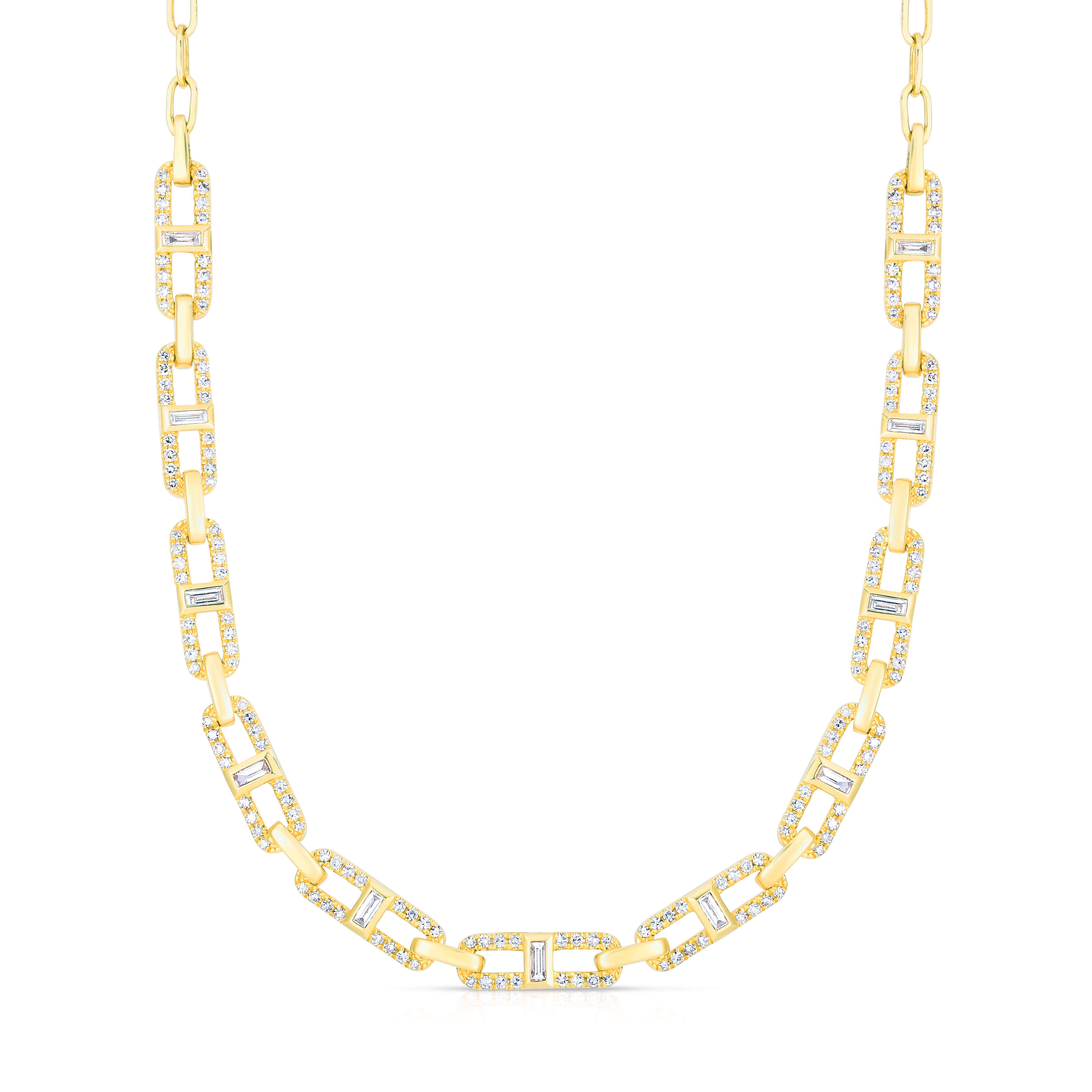 The 14k gold Baguette Link Necklace is undeniably the best base piece for your up-and-coming knockout style. The bold, classic chain link diamond necklace creates the perfect artistic palette for your layered necklaces, pairing with daintier and chunkier pieces with ease.
The Baguette Chain Link Diamond Necklace is anything but subtle, though. The traditional look gets a stunning makeover thanks to a lineup of 187 polished, bright white baguette diamonds that steal the show and sparkle from top to bottom.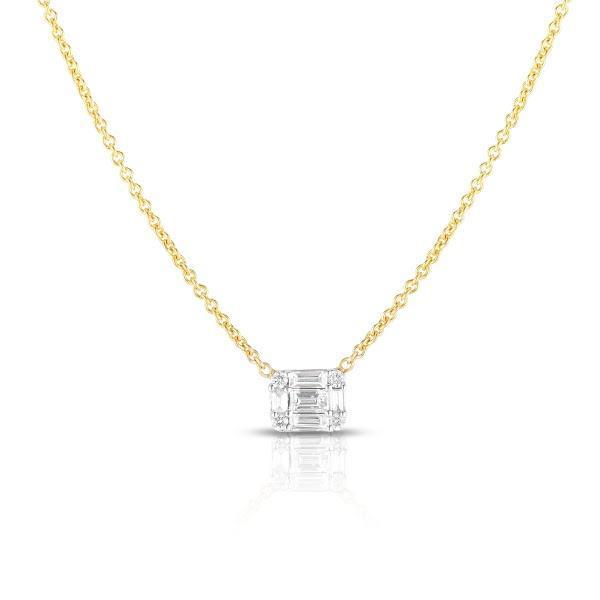 When it comes to utter brilliance and refinement, only one gemstone comes to mind: the emerald diamond. The emerald formation is known for its lavishly long facets and bold corners, creating an exuberant fashion statement wherever it's worn.
This 14k gold jewelry piece starts with a 16 to 18-inch dainty and delicate chain leading down to a captivating, look-at-me illusion emerald pervaded with nine exquisite baguette and round diamonds.
The design plays well with bolder pieces, like the Baguette Link Necklace, where the delicate and the fierce come together for a balanced yet highly mesmerizing finish.
Do you prefer your diamond choker to have delightfully savvy interlocking pieces rather than overwhelmingly rigid squares? Then you will fall head over heels for the TriBeCa Emerald Diamond Illusion Necklace.
This 14k yellow gold curb chain provides an instant upgrade to any outfit it adorns. The chain-link construction is whimsical and highly detailed. Yet, the standout feature is where the chains meet in the center of an impressively large illusion emerald cut with nine stunning diamonds.
Meant for layering, these diamond chain necklaces come with a fully adjustable chain that ranges from 16 to 17 inches. That way, you can easily swap in some stellar complementing accessories, such as the lovely emerald illusion necklace or the edgier chain link choker.
When you're layering pieces, whether it's white gold and diamond bracelets or statement necklaces, the last thing you want to do is for details to get lost in the mix. Well, when you add the Long Link Necklace with Baguette Diamonds, you can't put these fears to rest.
This striking long link necklace is anything but shy. The loud-and-proud design features a lavish diamond-covered charm sprinkled with a baguette diamond at center stage, elevating the diamond necklace instantly and making it a standout piece you won't soon forget.
Needless to say, this charming chain necklace (available in white, yellow, and rose) becomes an instant standout - regardless of what other jewels stand in its way.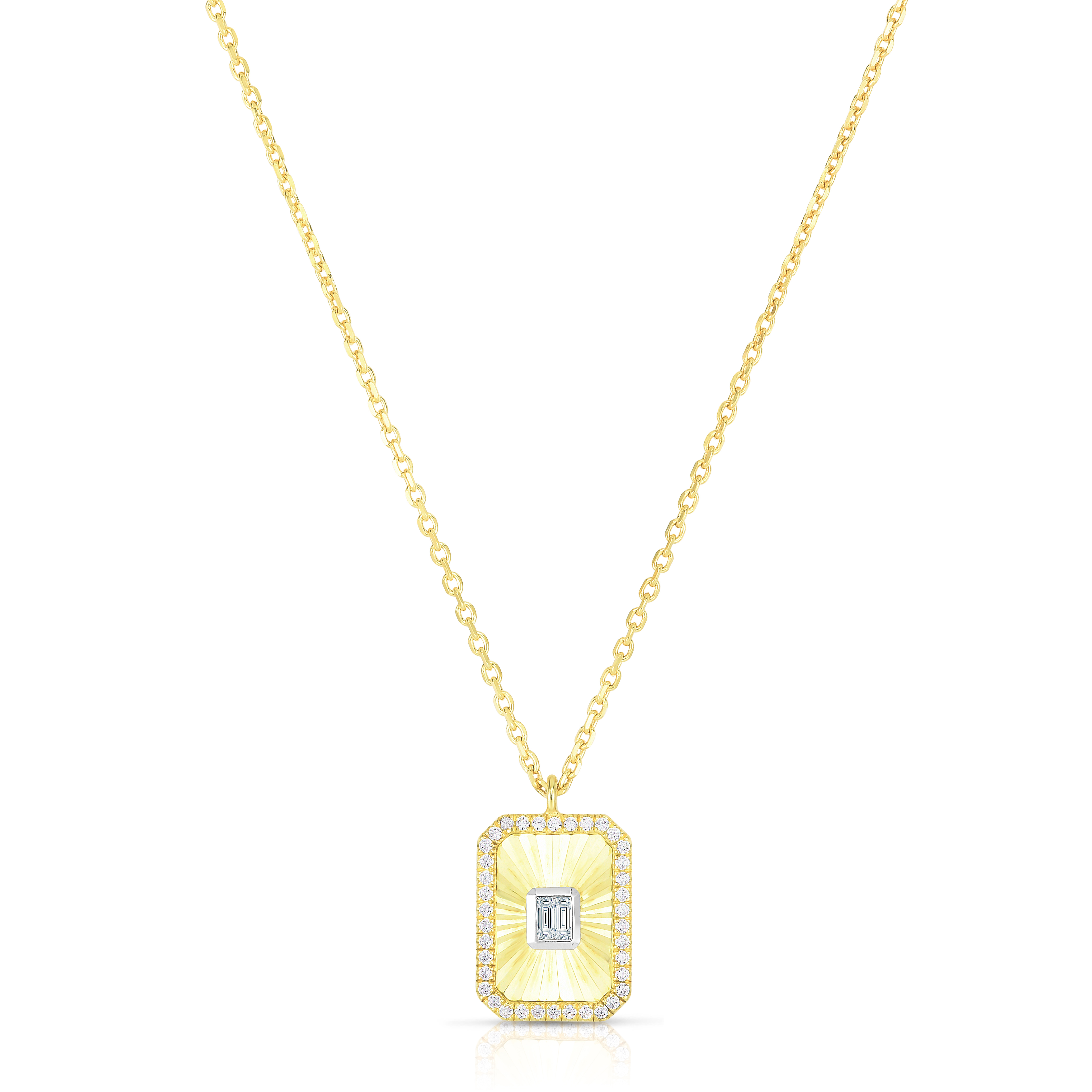 Marilyn Monroe once said, "Diamonds are a girl's best friend." And we're confident when we say that the Fluted Baguette and Pave Diamond Pendant is destined to make it on your BFF list.
This intricate, dangling baguette diamond necklace is exactly what your bold layers are craving. It comes with a beautiful chain design featuring paperclip links at the center. The mixed chain is not only feminine, but it lets the shimmering gold base and baguette diamond piece below get all the attention.
You will adore the attention-grabbing fluted gold base flawlessly outlined by sparkling pave-set diamonds. Right smack-dab in the middle are two breathtaking baguette diamonds, taking this diamond necklace from "pretty" to "sensational."
Whether you combine two of these sensational necklaces or opt for all five, you can guarantee a look that gives your outfit the royal treatment. Which of these beauties will end up ornamenting your neckline?