Pearls have long been a quintessential piece in a woman's jewelry box, from Coco Chanel to Cleopatra. They exude prestigiousness, class, and dignity, the ideal accessory reserved for the most reputable occasions.
But in this day and age, pearls are making a fierce comeback with updated designs and contemporary influences that can mix and match with everyday looks with ease.
If you want to add this reinvented timeless staple to your wardrobe, you won't want to pass up these stunning pearly pieces.
Our Favorite Pearl Earrings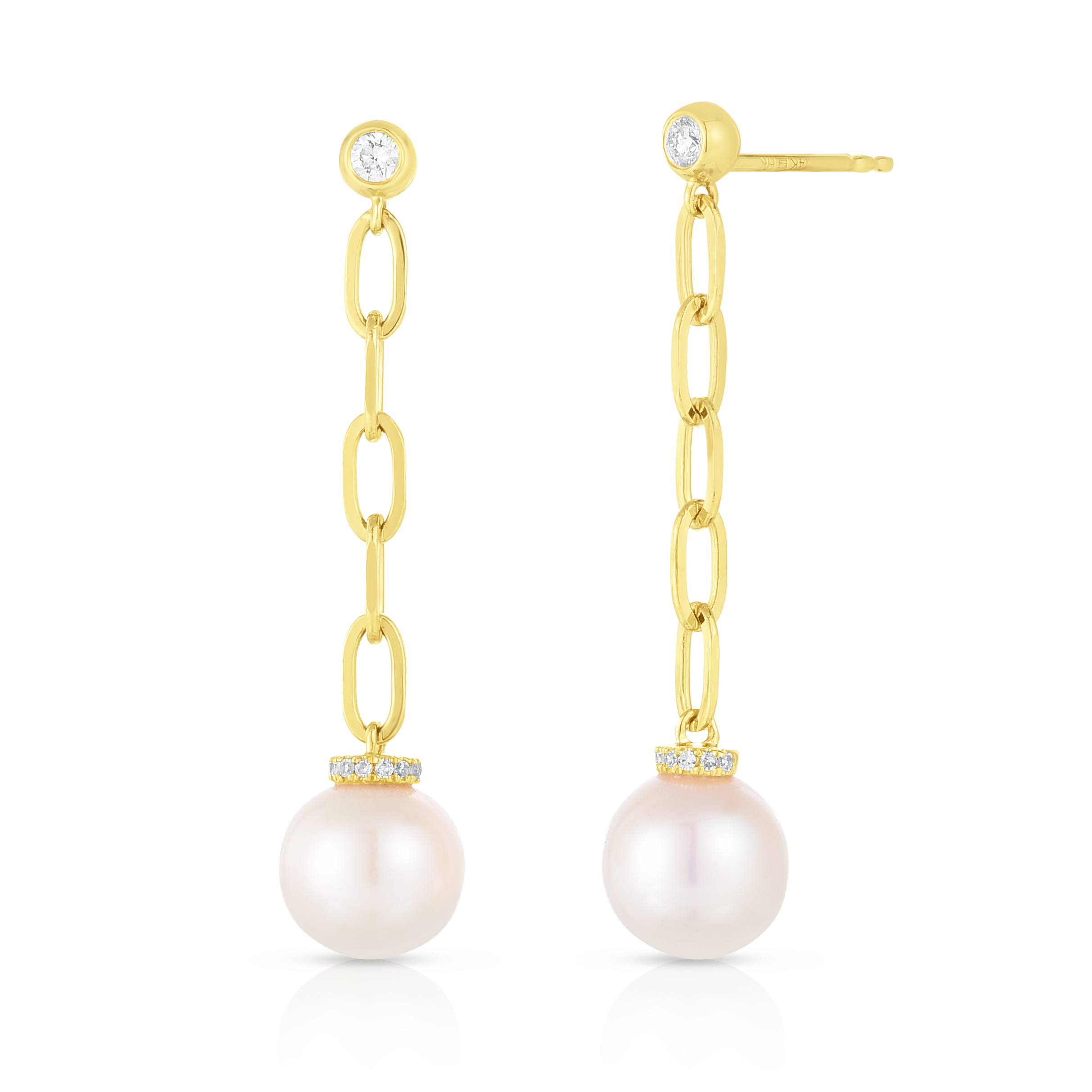 Want to dip your toes into pearl paradise without going overboard? Then these luxurious Pearl and Diamond Earrings should shimmy into your shopping cart. This look is the perfect union of feminism and sass, with an exaggerated chain link trickling down to a gorgeous sphere of pearl. The pearl is flawlessly accentuated with a ring of diamonds, adding instant sparkle that can be seen for miles.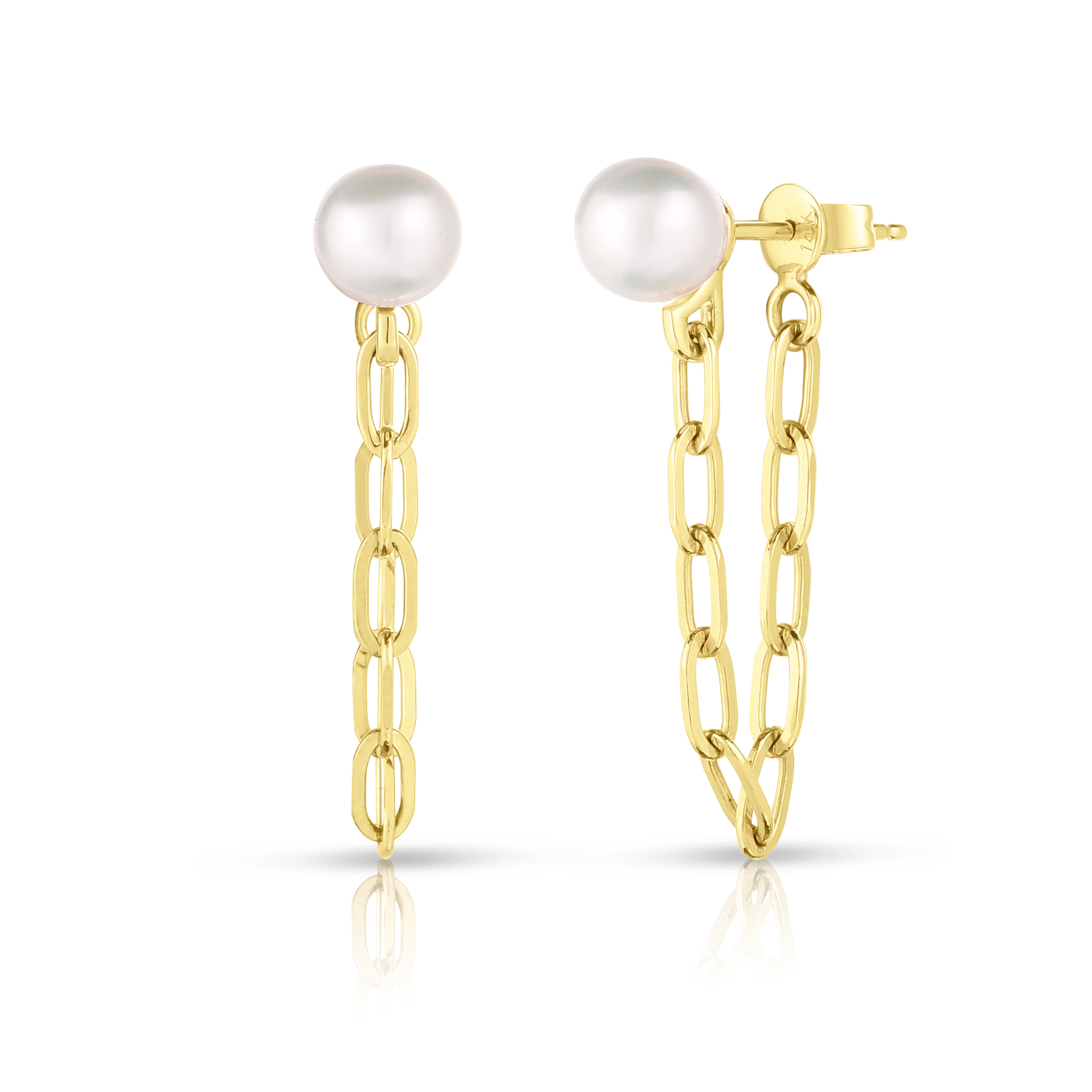 Looking for earrings with a bit more bold attitude? These Pearl Chain Earrings are here to answer the call. A beautiful, traditional pearl stands center stage - much like the standard country club pearl drop earrings that have stood the test of time. The difference? These pearl charm earrings come with an exquisite, contemporary, and somewhat daring dangling long-link chain.
These reinvented pearl dangle earrings can be worn alone or styled together for a standout, flashy look that places modern pearl jewelry at the forefront.
Statement Pearl Necklaces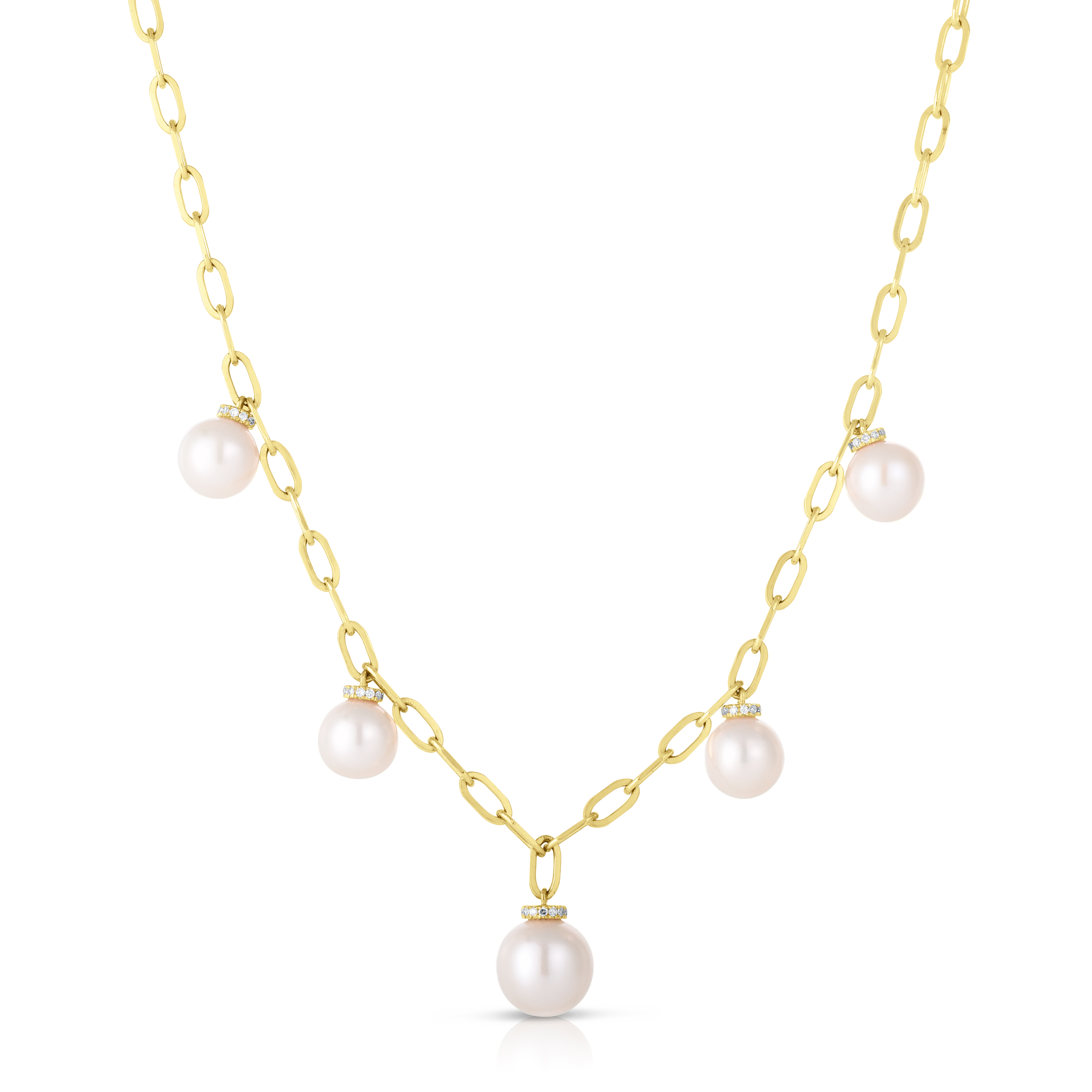 When it comes to everyday wearable pieces, pearls have taken the backseat - sitting on their golden throne awaiting the next affluent event, that is. But today, pearls have taken a minimalist twist and can now be an approachable option to pair with your typical day-in and day-out clothing.
We'll start with the Pearl and Diamond Necklace, a lovely amalgamation of a trendy golden chain link decorated with a series of feminine pearls. The chain link adds a dose of edginess to this look, while pearls ensure a delicate aesthetic. Oh, and we can't forget the diamond accents sitting atop each tender pearl. Together, this three-in-one pearl jewelry creates a captivating scene that's surprisingly simple enough for everyday wear.
If that look is still too traditional for you, consider the Pearl and Diamond Long Link Lariat. This pearl lariat necklace radiates voguish appeal, with a bedazzling ring of diamonds sitting along the lasso and a dainty pearl dangling right underneath.
Much like the pearl charm earrings, these pearly necklaces can be styled alone or together.
Pearl and Diamond Bracelets
Bracelets have long been an elegant accessory that looks undeniably gorgeous draped around a woman's wrist. But the next time you give your hair a flirty flip, putting your graceful jewelry on display, make sure you're exposing a series of magnificent pearls with this Pearl Charm Bracelet.
You'll love everything about this charming accessory, from the brave long-link chain to the superlative string of pearls customized with a sparkly diamond base. Together, this bracelet is designed to sparkle, surprise, and tantalize while still being an excellent option for your everyday rotation.
Unique Pearl Rings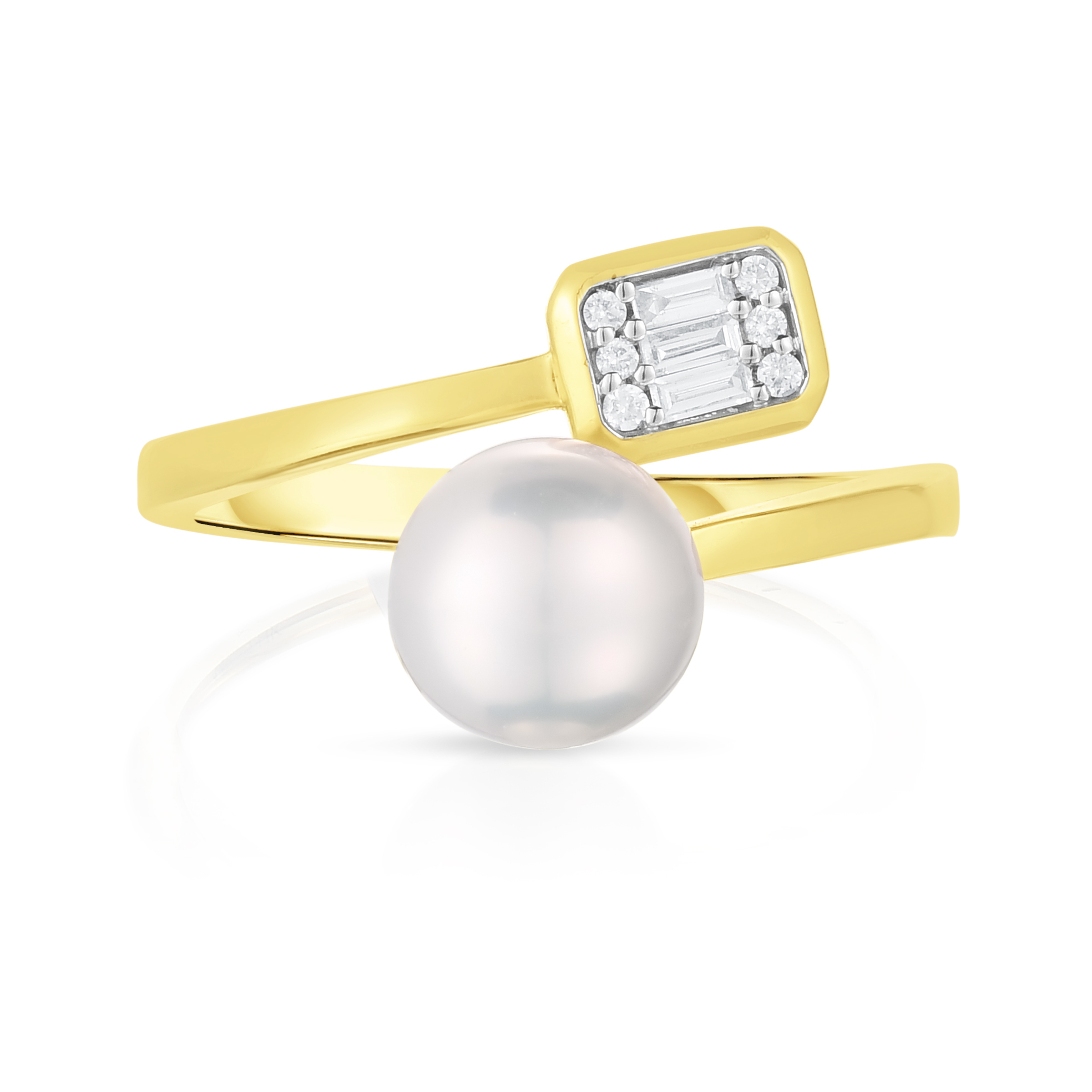 When you want to add just a pinch of pearl to your attire, a ring is an excellent way to go - and the Pearl Bypass Ring is the easiest way to do it. This pearl and diamond ring takes a mixed media approach, achieving a modern spin on a typical classic.
The ring comes loaded with personality, with a refined pearl in the limelight exquisitely accentuated by a cluster of baguette diamonds in the background. With an asymmetrical band, this is the perfect example of "modern pearl jewelry" revamped, reinvented, and completely remodeled.
Are You Ready for "Hot Pearl Summer"?
It's clear - pearls have resurfaced in an all-new way with a contemporary feel that can be worn with all your favorite looks, whether you're sticking to a classy pantsuit or wearing your grungiest attire. All that's left is to wonder - which one of these stunning yet modern pieces will end up in your everyday rotation?